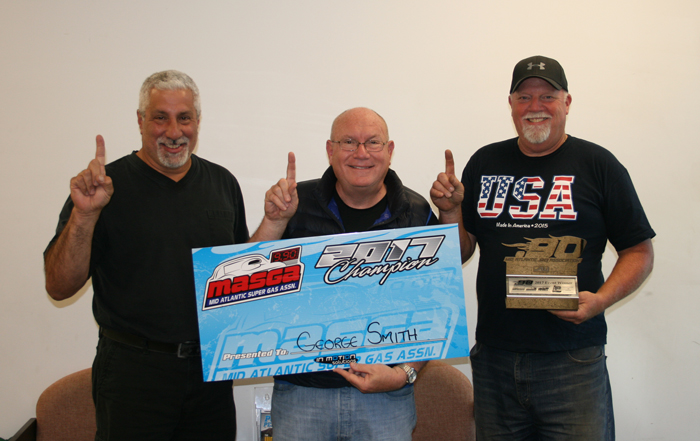 One of our oldest customers (25+ years) George Smith walked into our shop carrying a large check, a trophy and an even bigger smile. He had just won the MASGA (Mid Atlantic Super Gas Association) 2017 Super Gas Championship. He did it in style by winning the Series Championship in the semi's and polishing off the day by winning the final round of the final race to make it a perfect weekend!
He won it all with his old school ladder bar Camaro that he's had since he used to drive it to high school! Old doesn't mean bad when you combine it with a state of the art new SSRE SR20 powerplant. They say power makes everything better and that certainly proved true in George's case. He just loves the consistency and top end charge his new SSRE 582 SR20 gives him ... round after round after round.
As an interesting side note he had sold his 5 year old back up SSRE 582 Sportsman engine to his friend Derek Clark over the winter who raced all year trouble free and would up finishing second to George when George put him out in the second round.
A great weekend for both George and SSRE!! It's always nice when the Good Guys win and george is definitely one of the nicest!!