Hilborn Individual Runner Electronic Fuel Injection
Scott Shafiroff And One Of His New Hilborn EFI-R Pump Gas Engines!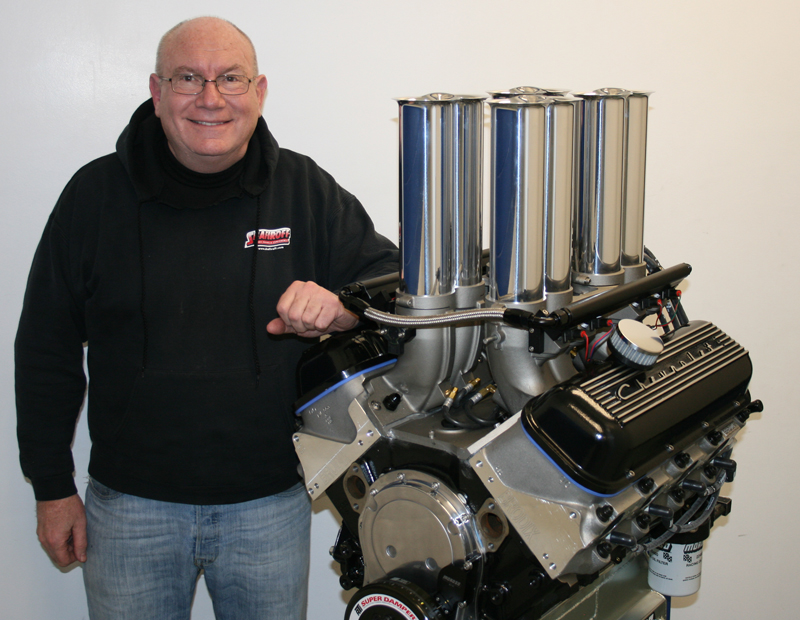 Scott Shafiroff is no stranger to making big power with street friendly combinations. This is evident in his Ultra Street and Big Dawg series that routinely twist the upper end of the dyno on pump gas. Scott was impressed with results of a 509 dyno session that included a Hilborn EFI Injection system recently featured in Engine Labs. Always looking to make more power, Scott was interested to see if the same results could be applied to a more serious application and set his eye on one of his relatively new combinations, a 615 cid bruiser that stuffs a 4-5/8 stroke into a low deck block. Known as the 615 Twisted Low Deck it has already seen tremendous success in the street and race environment, but questioned whether the Hilborn would show the same gains in a more aggressive application compared to the 509.
The base Shafiroff 615 Twisted Low Deck is rated at 925hp @ 6200rpm and 830 ft/lbs @ 5200rpm with a 1250cfm dominator carb. Pretty impressive numbers for an engine with only 10.8 to 1 compression running pump gas. The engine built for this test featured an upgraded piston, ring and cam package that supplied 11 to 1 compression and boosted the output to 969hp @6500 and 836ftlbs @ 5500.
Hilborn's EFI Specialist Andy Starr put together one of their EFI-R kits that featured a street friendly 2-5/8 butterfly along with electronics from Holley and a fuel system from Weldon Pump. As with all of their EFI-R kits, Starr provided an IR specific base calibration for the Holley ECU. Once fired, Starr performed the timing synchronization of the Holley Dual Sync distributor before the levers were pulled.
The engine responded with a dramatic increase in power and torque with the numbers showing 999hp @ 6500 and 879ft/lbs @ 5300. Torque at 4500rpm was an impressive 850ft/lbs carrying that number to 6000rpm.
The average numbers showed a considerable increase as well. Average horse power for the carb was 878hp vs 918hp for the Hilborn with the torque average of 815ft/lbs for the carb compared to the 854ft/lbs for the Hilborn.
"The numbers are pretty impressive with almost 1000hp on pump gas with an engine that will idle at 850rpm, it doesn't get any better than this", mused Scott. Starr added, "the dramatic increase in cylinder fill is proven by the torque numbers which carried into the better numbers up top. But the one dynamic that we can't measure, the one that will make the car much faster than the extra power numbers created is the increase in engine acceleration rate."
That's what will put the smile on the customer's face! Very rarely in this business can we combine an incredible "Wow Factor Product" while delivering both increased power and exceptional drivability ... this is the real Trifecta of street performance!